killthatguy111 wrote:
You say you ain't gotta prove yourself to me, and you're right, you don't. I really couldn't give a fuck. But yet, you keep trying to prove yourself by saying all this modding you can do!

Yes, all I did was edit ini files and shit but I didn't just edit the later levels. I just wanted to make the game harder, that's it. If people who didn't know how to edit it themselves, or didn't have the time, they could just download the mod. As of rn, I have a better version of it but never tweaked it enough to release it. I might. It's not supposed to be a breakthrough, but its supposed to be an easy to download and install harder difficulty. That's it.

As much as you subconsciously try to prove yourself to me, you gotta face the fact that you're killing this forum. You're a (not "the") big reason WHY people are leaving. I'm trying to do something to bring us together again and put Manhunt on the map once more. All you'd do is just post a porn gif and rant about Deagle again. But hey, this is an opportunity for you. If you can contribute in any positive way, THEN DO IT! I'd love to see you help this cause. If you really can do what you say you can, then please do it. I want to see everyone try to get in on this project. We could make our own Manhunt game, can't you see that?

All I'm saying is quit the shitposting and join this project and do something to contribute.
Ah fuck... i didn't expect an answer like that, man! Sure we're real cunts to each other right now and i don't agree with ''me being a big part of why people are leaving'' since there ain't anyone left, hasn't been for fucking years now. But the point is, now you gave me a mature enough response and i'll say that let's stop this stupid fucking argument and work together to bring Manhunt back. Like i said, i got experience in modding and i've been browsing through the ini files recently to see which things are easily adjustable and which elements of the game are hard-coded or scripted. It seems quite a big part of MH1 can be modded by anyone who's got the modified ManHunt.pak file (the original pak file doesn't allow any modifications and simple ignores them in-game). I'll do some modding research tonight and i'll post my results here.
Let's stop this bullshit, man. We don't have to like each other, but we can work towards greater things for our favorite series, Manhunt that is.
In-fact i'm talking with my hacker pal, Ermaccer, right now. He's making new discoveries YET again. Take a look!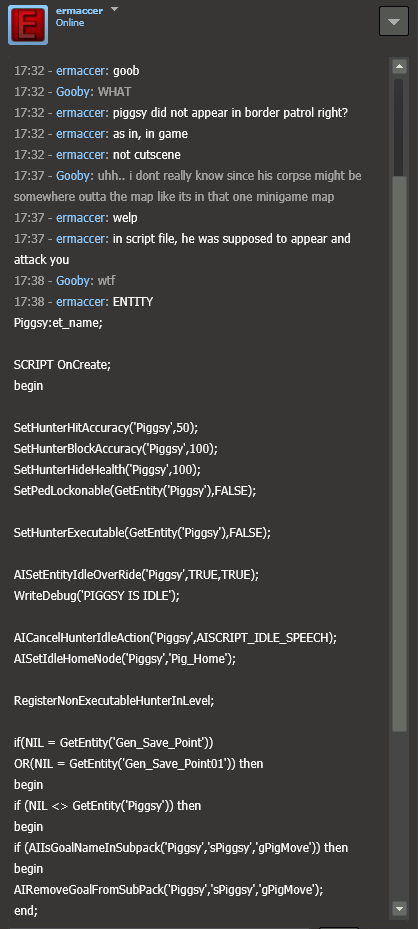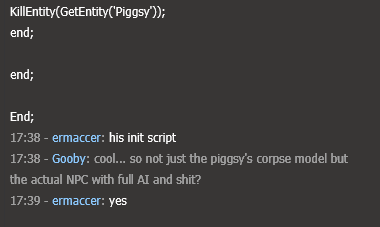 _________________
Leo Kasper - ''That's it... no one's gonna push you around, NO ONE!''
I mean it doesn't matter who I'm attracted to, it'll always be one sided due to me being ugly and having a small penis, ok? - wwinterj 2018