Please excuse the smuggness (only joking). But i do really think im onto something here. Im looking at you Rockstar!
(heads up for a lot of reading).......
My story stars a man named Colin. From the get-go, we find out Colin has a wife and child and is a brutal immoral russian hitman but he is also completely psychotic and paranoid. We also find out that Colin had a mother, who was abusive to him, so he killed her as a child. But ever since Colin murdered his mother, he cant seem to get her voice out of his head. Her voice is the thing that urges Colin to kill people (so throughout the game when your about to execute someone, you'll hear your mothers voice say things like "kill for mommy!" "Avenge my death boy!" etc.). He spends most of his childhood and teenage life in an asylum, then in jail. He finds connections in the prison to the russian mob, and this is how he becomes a hitman, after he is released. His family has been able to subdue the voice, while he leaves what killing urge he has to the hit jobs he receives. He then lets his rage get the best of him after a random black out and murders several of the russian mobs members. The mobs leader, which trusted Colin so much, has to now punish Colin. He doesn't want Colin dead though. The mod leader respects him too much to kill him and in a way understands his mental illness. But he still needs to repay his debt. so in order to do that, he wants Colin to put his wife and child into slavery for the mafia. He refuses, and comes home to find his family has been kidnapped anyway. Colin sets off into the city for a night of brutal vengeance (with his mental state worse than ever) to get his family back and kill the mob leader so he can leave town the following morning. And so now we get to the game. This time around we have an "Urge" meter. Colin has a psychotic urge to kill and kill violently; you have to satisfy that urge. The Urge meter slowly decreases over the course of the level; to fill the urge meter you just need to kill someone. Now ill take a break to talk about NPCs.
In each level there will be three types of NPCs: Hunters, innocents, and police.
Hunters:
You know these guys. These are the guys looking for YOU, and when they find you they WILL kill you. They are in every level.
Innocents:
This is a new element to add to the series. The levels will be much larger (not free roam large) and allow room for sections where there are lots of innocent bystanders walking around. Depending on where you are, the innocents will change to fit the area. The important thing about these innocents is that you can blend with them (by say, holding a button). You'll walk more casually with your hands in your pockets, And Colin could wear a hoody, and put the hood up. Blending will hide you from hunters and police that are looking for you (only if you don't get too close and are not too wanted [ill explain wanted levels in a sec]) pretty much in every level, some of the later levels might not have any (making it harder, ill explain why)
Police:
No police men need to die throughout the game, if you wish to kill some to get your urge meter up (or for fun) that is your decision. Police can potentially be in every level depending on your actions, keep reading...
Okay, wanted levels. Its important through out the game to keep the police out of your business. They will hinder you from completing level goals and moving forward. In the first few levels there will be one or two cops just casually walking around. If you leave bodies or blood or just basically a crime scene behind and the police find it, they will call it in and forensic teams will enter the level. You can choose to watch this unfold or keep playing (ill explain why it might be fun to watch in a sec) .They will crowd around the scene along with any innocents in the level and collect evidence you left behind. The reason you may want to stick around and watch is to see if they can find enough evidence to lead to you. You can kill in a way that will leave minimum evidence behind. This is called killing smart. Your urge meter determines the amount of evidence you leave behind. If you don't have a strong urge to kill, you'll kill smartly and they wont find things like shoe and fingerprints, or hair fibers etc. And if you sit and listen to the forensic team talk, you can hear them figuring out what weapon you used, how you used it etc. which could be very fun. Once they're done, the forensic team will pack up and leave the level, but in their place will be double the cops, and all of them on the prowl for anyone suspicious. You can avoid this all together by hiding your messes, putting your bodies in stash spots like garbage cans and what not. You will also be able to dismember corpses. Stand over the corpse with your limb hacking weapon of choice, and hold a button and a picture of a human anatomy will pop up, then you just click to which limb you want to cut off (you can cut off the head, right arm, left arm, right leg, or left leg). This will make stashing the body alot easier (especially when you don't have places to hide a whole body in certain levels). You can also use the limbs as a throwing lure, or a scare lure (ill explain scare factors later).
If you leave enough evidence behind, the forensic team will identify you, and you will become most wanted.
If you are "too" wanted by the police, the innocents will react to you and run away or point you out to the cops and generally make it impossible for you to blend in. If you are too wanted, your best strategy is to stay hidden. Once your most wanted, each level will start with a timer that tells you when the police will swarm the place to start looking for you. If you kill all the police that come in that wave, there wont be any more for that level, but each level will get worse and worse. Your timer will be shorter, and police officers will be replaced with SWAT teams. If you want to avoid this you have to find a way to finish the level without killing the cops. Being most wanted at the end of the game will earn you an alternate ending.
Back to the urge meter. Lets talk about what happens if the urge meter depletes. The lower the urge meter goes, the more your insanity will take control. It will start with heavy breathing (which can alert very close by NPCs your hiding from) then it will go to muttering to yourself (which can alert NPCs that are a little further away) Then it will go to hearing voices of your mother and family and screen distortions like blurring and jumping and color changing tv fizzes, and even random scary images. Then it will go to Colin actually yelling to stop the voices (this will really attract NPCs that are far away to your position). Finally it will go to Colin hurting himself, which will chip away at his overall health.
Speaking of health. The damage you receive will be clocked into your overall health, the more damage you receive, the weaker you will become. In other words, if your shot the screen will turn its traditional red, but once the red is gone and your our of danger, you will still limp and hobble, and you will now die quicker if shot or hurt again. You can find medical supplies, to get your strength back, otherwise your screwed so hurting yourself wont kill you, but it will decrease your strength, and that's bad.
You can not blend with innocents if your urge meter is half gone.
You can find psychotropic pills and smoke cigarettes to stop your urge meter from draining (but they only last but so long).
Now id like to talk about the driving force behind the whole game, The satisfaction meter. In Colin's twisted mind, he feels he owes his mother the lives of others in order to make up for him killing her. In the pause menu will be a satisfaction meter represented by a photograph of your late mother. The more satisfaction you have the more happy she looks in the photo, the lower you have the more mad and upset she looks (but this is also measured by a exact proper display of points in numerical value). In order to pass levels (on top of completing the goals) you must gain a certain amount of satisfaction. Your psychotic visions will stop you from advancing. To gain satisfaction, you have to kill. However its not as easy as slaughtering random people. You can do executions with your bare hands, but this gets you virtually no satisfaction (no matter how brutal the kills get). Guns get you very little satisfaction as well. The real points roll in when you start using weapons. The more brutal, nasty, raw the weapon is (comparing a kitchen knife to a chainsaw) the more points you get. You also get more points, the higher your urge meter is and therefore the smarter you kill (there is more to smart killing i will get to when i talk about executions). You get the most satisfaction from killing hunters, you get second most with cops, and third most with innocents (but you might have to get desperate if there is a lack of hunters). The values of satisfaction needed increase as you advance making the game harder.
Okay, EXCUTIONS! Executions were what made manhunt a stand-alone stealth game. My version only has minor updates to the original. You'll still lock onto victims using left trigger, and charge your attack by holding right trigger. This time around though there will triple the different attacks for each weapon. Each level (hasty, violent, gruesome) will now have its own inner three levels. Selecting which level you want is based on trigger sensitivity. Ill show you in the image below. (sorry to all Ps3 owners)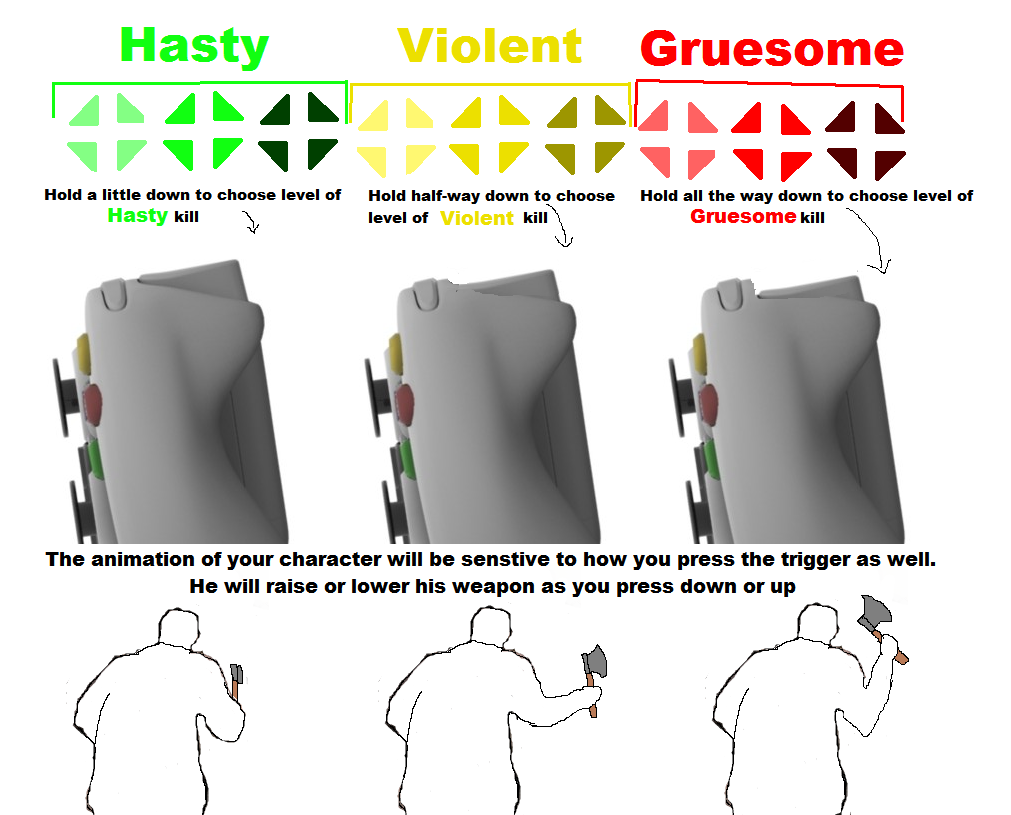 While your charging your execution, a picture of the context sensitive button you need to press will appear below immediately. What you need to press to activate the execution will depend on what weapon your using. Some weapons, you just may need to press A, some may require you to press B and A together, or X and Y.
This press of the button or buttons will activate the starting blow and move the camera to the front of the victim, so you are visible in the back. Lets say you have an axe and do maybe a "mid-level violent attack" you will embed the axe into the back of the victims head, but the victim is not dead yet. More context sensitive buttons will appear that you need to follow in order to finish the execution. You can, however, choose not to continue the execution and just stop pressing buttons. The view will return to normal, but what you will see in front of you is exactly what you did to the victim. You will see a guy with an axe in the back of his head.
When you perform green level kills (hasty kills) and don't finish the execution, your victim will quickly recover (since hasty kills are less punishing and based simply on quickness). With yellow level kills (violent kills) your victim will take a much longer time to recover after giving up on an execution. And with red level kills (gruesome kills) your victim will be permanently disabled (until you out him out of his misery). This is where the real sick fun comes in. With that axe in the victims, we can now choose to remove it. Just walk up to the victim and press a button when prompted, you will reach and grab onto the weapon. You now have the choice to pull it out quickly, or use the left thumbstick to twist and turn it around inside. The victim will scream and this will attract unwanted attention (if its near). Some weapons can silence a victims voice (cutting out tongues, damaging throats, shoving things in mouths) without killing them allowing you to torture them without worry of screams being heard.
There is another button press choice you have when walking up to a damaged victim, you can choose to finish the execution. The camera will whip back around to the front and continue where you left off, as before follow the button actions and say "Y" rip the axe out of the head then "Hold B and press control stick to the left twice" chop at the neck two times, and the execution is over.
Torturing victims adds onto a score multiplier (for mother satisfaction) that you build up for as long as you can keep the victim alive and in pain.
Speaking of torture. Colin can also play mind tricks with his victims. The dismembering of body parts i mentioned earlier can come into play. Lets say i see a woman innocent walking alone in the back alleys and i have in my possession the severed head of my last victim. What im going to do is throw that head behind her, she's going to go investigate and find the head and scream and run away to find the cops. While she's gone I pick the head back up and run back to the shadows. She comes back with the cops to show them the head and hopefully get forensics in the level. Well now the cops think she's just some hysterical lady freaking out and they go about their business. What I've done to her now is marked her. The satisfaction value i get from killing her is now raised, and it will raise more and more if i keep scaring her. You don't get to juice the victim if you keep using the same tactic to scare them. You can keep throwing the head out and watch as she tries to get the cops (the second time she bugs the cops they will be on alert but wont come helping her after that) but it wont raise your satisfaction you get from killing. You have to try different things, like staring at her from afar by locking on to her with left trigger, or following her, or making loud noises when she's alone. But you can only juice them so much, the only way to claim these extra points, though, is to kill the person you've been scaring. You can scare police and hunters as well.
Colin is sort of a hobo throughout the game, not because he is one but because he is quickly forced into being one. You start with Colin typical russian hitman attaire (black pea coat over vintage plaid shirt and some tan slacks) You can change clothes throughout the game and may be sometimes required to change clothes. You could imagine that some of the more messy executions will get Colins clothes dirty. You will not be able to blend if you have blood all over you. You can find new clothes scattered through the different levels, the clothes are often going to be hobo clothes you find in the trash can, and often times wont be whole suits, just scraps, like you'll find a jacket in an alley, a pair of pants and hobo gloves in a trash can etc. etc. If you are able to find and kill an NPC that is your size, you can take all their clothes. But the catch is, you cant collect outfits like in previous Rockstar games, you leave the level with what you have on, and you old clothes are left behind. Btw, bloody clothes can be considered a crime scene component. This could also pave the way for two achievements
1. beat game wearing the suit you started with (will require you not do such brutal kills, which will limit your satisfaction income)
2. Beat the game with out ever changing your dirty clothes (will require you stay out of site through out game)
So what's left? Well you got to have multiplayer.
I don't have a long detailed idea for multiplayer. I think with what I've given you so far, you can think of where it would go.
I do however have one idea for a multiplayer game. It involves two players or two teams. You start out with no weapon; you have to find a hacking weapon. In the level with the players is an innocent woman. The player has to find the woman and hack her head off, and then bring it to their base, and idk put it in a laundry chute or something. This is hard because the hacking process takes a little bit, and in this time you are defenseless from opposing players knocking you off her, or stabbing you in the back. This could get interesting if we add two innocents with different colored shirts and a team has to get the head of the person with their team color and bring it back. This could get interesting because players could employ tactics such as kidnapping the innocent and bringing them back to their base and guarding them. We'll call it "Head Games" or "capture the Head" idk.
I SEVERELY apologize for all the text. This stuff honestly just poured out of me. I have so much faith in this idea, i really think its genius, to prove how much genius i think it is, I've even made box art for the game. If people don't get butthurt over the violence this could work so GOOOOOD. Movies get away with way worse, why not games?
(I do not own the picture in the center, here is the source
http://www.lowbird.com/user/Shitluck/vi ... h-by-ozanb
)
I was going to sketch out what Colin looked like in my head, but this picture i found does far more than I could have ever sketched. This is exactly how I pictured Colin to look (with a very short sloppy comb-over). He's basically a bulking Frankenstein Jason Voorhees killer, ya know?
Please discuss, what good about my idea, what's bad? Like it? Hate it? What would you add to it? blah blah blah